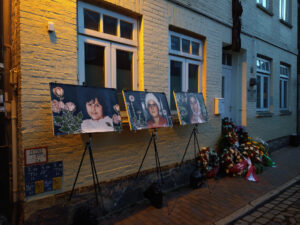 On November 23, 1992, neo-Nazis used Molotov cocktails to set fire to the Arslan family home in Mölln, Schleswig-Holstein. 10-year-old Yeliz Arslan, 14-year-old Ayşe Yılmaz and 51-year-old Bahide Arslan died in the racist arson attack. Other family members sustained partially severe injuries. Earlier, the same neo-Nazis had carried out another racist arson attack in the neighborhood. The first attack left nine people injured, some of them severely. İbrahim Arslan was only seven years old when he survived the second arson attack that killed his sister, his grandmother and his cousin.
The Arslan family has been fighting against oblivion for years. They advocate for the perspectives of those affected by far-right violence to be recognized, and demand an appropriate commemoration of the 1992 arson attack from the city of Mölln. Since 2013 the "Möllner Rede" (Mölln Speech), the speakers of which had been handpicked by the Arslan family for years, has been banned from the official memorial because the city deems it too political. Ever since, the Arslan family has organized the "Möllner Speech in Exile" in a different city each year.
At this year's commemoration in Mölln, İbrahim Arslan read out three letters expressing sympathy and solidarity in the wake of the 1992 arson attack. The letters were supposed to be forwarded to his family by the city of Mölln. Instead, they ended up in the city's archive. They are part of a whole collection of letters the Arslan family had no knowledge of until last year. The city of Mölln collected the letters in the city archive, but failed to inform the Arslan family about their existence. A researcher found the letters in the city archive and notified the family.
In this conversation with İbrahim Arslan we discuss the letters themselves as well as their personal meaning; the way the city of Mölln has dealt with these objects of remembrance and solidarity; and yet another battle facing those affected by racist violence.
İbrahim, at this year's commemoration of the racist arson attacks in Mölln in 1992 you read letters to the audience. Can you tell us about the context? What kind of letters did you read out?
At this year's commemoration I only read out three out of approximately 3,000 letters that had been kept from us. The story behind these letters: Immediately after the attack, people in Germany and beyond expressed solidarity. From the Netherlands, from America, from Turkey people sent letters to the family, but also letters of solidarity addressed to the city of Mölln, which were supposed to be forwarded to us. These letters also contained monetary donations. This is evident from reading them. The letters were collected in a Turkish tea room.
We did not know about the letters for 27 years. In fact, it was only last year that we discovered them in the city archive of Mölln by accident. One of our comrades came across the letters while conducting research on Mölln. We have now obtained the letters via a family inquiry and were shocked to discover that the solidarity of the majority of society had been there. It's only 3,000 out of 80 million people, but nevertheless, we were in desperate need of solidarity. They kept it from us by archiving it for 27 years.
When I recited the letters on November 23, 2020, I read them out as if they had only been written recently. At the end, I revealed the date and everyone was shocked: Why is a letter that has not been read for 27 years being read today? This is definitely a second attack by the city against us.
This means back then they simply collected the letters and locked them away, that is, they stored them in the archives, and you never even saw them?
The mayor has not commented on the matter so far. Following a journalist's inquiry, he said the letters had historic value and that was the reason they were archived. After all, our family never asked for the letters, otherwise they would have given them to us. However, we can't ask for something we don't know exists.
Now you finally received the letters, thank goodness. What did you learn from the letters? What stuck with you the most?
I really did read all the letters. Some of them have a hundred or two hundred signatures. Some letters had a tremendous emotional impact on me. One of them, for example, was a letter from the Ravensbrück camp community. There were Holocaust survivors out there who had written us together with their friends. The Ravensbrück camp committee still exists today. In the letter, they expressed their solidarity and also indirectly stated a desire to get in touch. Connecting with Holocaust survivors and their relatives is something that we would like to do to this day. And yet, the door was closed to us because, unfortunately, many Holocaust survivors are no longer alive. At that time, however, we could have contacted them, but for 27 years we were deprived of this opportunity.
Another letter that had great emotional impact on me came from a 12-year-old child. A girl who wrote about experiencing racist tendencies in her family and hearing racist statements after the attack: Nevertheless, she secretly wanted to express solidarity with us. She could not send money, but she could send us a stone. The stone was in the envelope. I was deeply moved by that. I immediately googled her name because we had to be roughly the same age. I learned that she works at the Workers' Welfare Association now. Who knows, if she gets interviewed and someone talks to her, maybe it will turn out that she decided to take this route after witnessing the attacks in the '90s and '80s as a child. Maybe she wanted to show solidarity with the people affected by the attacks. For 27 years we were denied the opportunity to connect with people like her.
Looking back, what do you think it would have meant to your family had you gotten the 3,000 letters back then?
We say this all the time and we emphasize it at every event: We stayed in Germany because we experienced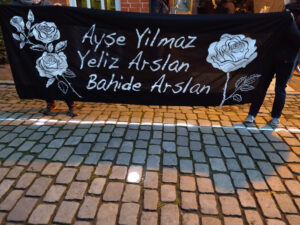 solidarity from people, because we met caring people, because we saw people who had a different mindset than those who torched our house. The letters would have supported and corroborated all the statements we are making to this day. We could have fought the battle regarding the perspective of those affected that we are fighting today back in the '90s, because we might have been able to do it together with all these people. All of this was denied to us. It would have meant the world to us.
It also would have had a big impact on where we are today. I believe that had we contacted these people back then; had we developed projects with everyone who had written us, and had we fought for our demands side by side then we wouldn't be where we are today. We are fighting a relentless battle against oblivion and for a stronger emphasis on the perspective of those affected. Maybe we could have done it with over 3,000 people back then. Now, after 27 years, it might be too late to contact them, but we are going to try anyway.
What does reading the letters now mean to you personally?
Of course, there is an upside to the fact that I got them. That way, I can work from the following assumption: When we think of other people who survived racist violence, for example, when we think of what happened in Rostock-Lichtenhagen, Hoyerswerda, Solingen and with the NSU, I'm now quite confident that there are still letters hidden in various archives and that they haven't been given to the families. Naturally, this has opened up a whole new political issue. The fight goes into another direction. We probably have to reclaim objects that belong to us – or rather, we have to find them first, then reclaim them. This also means that people who survived racist violence have to take action now to pursue their history.
This means a lot to me, because I can rally a lot of people this way so that we can fight these battles together. Together we can reclaim the objects that belong to us from the institutions that simply stole them from us. Immediately after receiving the letters, I got the idea to just continue investigating various institutions where there might be more. I discovered that, remarkably, objects belonging to us are on display in the House of History in Bonn
Even in their archives there are objects that were taken from our family' s possession. They were taken from our house after the attack and given to the House of History so they could put on display at some point. Last year, a telephone that might have belonged to us was on display at the House of History. That's completely unacceptable. Now I also have to contact them; now I also have to persuade them to return our objects to us.
Did any of this change your outlook on society, on the city of Mölln, and perhaps even solidarity itself?
On an emotional level, yes. Let me put it this way, my attitude towards institutions has deteriorated. They can't relate to our emotional state; they're not interested in people's fates at all. The letters were withheld largely because the city of Mölln wanted to clean up its image. I mean, if people show solidarity with the Arslan family rather than the city of Mölln, the city gets worried as to what went wrong – why doesn't the majority of society see that the city of Mölln is actually the one affected? All my assumptions about how institutions deal with those affected have been confirmed by this. And they will continue to be confirmed if I continue to read out the letters in public.
On another emotional level I realized: These people did reach us with their letters, it took 27 years, but they did reach us. They understood our soul, our resistance struggle and even our sorrow. They say that sorrow shared is a sorrow halved, and I really felt that when I read their letters 27 years later. I think it's a very, very beautiful display of solidarity that benefits one of those affected.
What are your demands; where do you want to go from here, and how can people support you?
First we have to decide how we want to deal with these letters as a family; what we are going to do with them; whether we are going to look for the people who wrote them, and whether we want to take legal action. We haven't figured out the answers yet. It's all too fresh. Not all family members have read the letters yet, and neither have our lawyers. First we have to evaluate all the letters and then we will decide how to proceed.
The other thing is: Of course I have demands regarding society as a whole. A lot of people should – have to start looking for things that belong to them. They have to contact state institutions, governmental organizations; they have to rummage through archives to find out if anything has been taken by governmental organizations. What it boils down to is: they stole from us. The letters were our property. So now I'm calling on people to look into their own history and find out if there are any letters or objects hidden somewhere.
For example, I'm fairly certain that there's a lot of material relating to Rostock-Lichtenhagen sitting in the state government's archives. And in the case of Hoyerswerda, I am also fairly certain that there is a lot lying around. After all, why would the people who wrote us not also have written them? Solingen happened right after the attack on us. I'm fairly certain that the same people, or a similar number of people, wrote to them as well.
It's simply disastrous to withhold this information from people, and to somehow try to clean up the city's image that way. They are playing with people's health and even with their future. Things might have turned out very differently for me had I received these letters back then. That much is obvious.
Translation: Patricia Zhubi
Hier geht es zur deutschen Version "Die Solidarität wurde uns verheimlicht, indem man sie 27 Jahre lang archiviert hat." – Interview mit İbrahim Arslan.